I'm back! And doing the incredibly ill-advised thing that is having a concussion and writing (bad) on a screen (worse) and I don't even have to (why am I like this?) (Answer: because I'm bored. I am like this because I'm bored.) Today's Top Ten Tuesday topic is books that have been on my TBR the longest and I still have to read. On one hand, I like to think that I'm super good at reading books I already own before buying/borrowing new ones, but on the other hand, there are like fifteen books currently staring at me and laughing uproariously because HAHAHAHA I STILL HAVEN'T READ THEM. So let's get started.
My biggest shame is 100% Eleanor and Park by Rainbow Rowell. Why? Because Fangirl is one of my all-time favourite books, I loved Attachments, and Carry On was pretty okay considering it didn't even try to hide it was Rainbow Rowell Does Harry Potter. AND I KNOW I'M GOING TO LOVE ELEANOR AND PARK! I love Rainbow Rowell! I love books about chubby girls! They give me hope for myself! And yet this book just keeps on sitting on my shelf and I just keep… not reading it?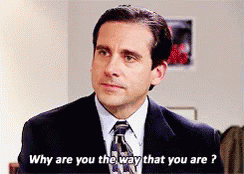 My next great shame is The Fifth Season by N.K. Jemisin. This book is literally supposed to be one of the best fantasy books of all time! It's won all the Hugos! The writing is so cool! The idea is so unique! So why have I not read it yet? Once again, I literally see it every day. And my brain just goes let's read Six of Crows again. (Which is okay, because Leigh Bardugo is a goddess.)
But! Leigh Bardugo! Has written a book! About an actual Amazon goddess! (I saw the Wonder Woman movie. She is 243% a goddess.) And guess who hasn't read it? I still have to read Wonder Woman: Warbringer. Which is a book by my favourite writer and secret goddess, Leigh, about my favourite goddess and secret cinnamon bun, Diana. And it still just lives on my shelf, asking why. WHY?
Another book I bought ages ago and just occasionally acknowledge its presence is The Shadow of the Wind by Carlos Ruiz Zafón. Let's look at everything it has going for it.
 A cool name. The Shadow of the Wind is one of the coolest names to ever cool.
An excellent setting. BARCELONA! And I spend all my time wishing I was back in Spain, so this should be an excellent alternative.
It's about books! Do you know what I love? Books.
So why haven't I read this book.
The next thing I should have read by now but haven't is THE REST OF THE A SONG OF ICE AND FIRE SERIES. I am bad. I watched the show first. I meant to read the books first! I had read the first book and was like hey, I'll just watch the first season. Hahahaha no. That thing is addictive. So now I'm all caught up on the show and have only read the first two books. #BadLeo
Another big fantasy series I keep meaning to finish but haven't is the Mistborn series by Brandon Sanderson. I read the first book and never continued, and now it's been so long that it's just kind of fallen off my list of things to care about. Whoops. Sorry.
I also have yet to read Scythe by Neal Shusterman. Whenever I'm in a bookstore, I always end up debating whether or not to buy it, and I never do. My brain screams at me it's got tonnes of awards! everyone on Goodreads loves it! and I just think naaaah, I'll get it next time. No points for guessing what happens next time.
The first book I ever put on my Goodreads to-read list was The Absolutely True Diary of a Part-Time Indian by Sherman Alexie. It would be so easy for me to read this. My school has ten million kajillion copies of this thing kicking around. I could just walk into any English classroom and take one. But I have never read this book.
One of these days I will read Everything, Everything by Nicola Yoon. I loved The Sun is Also a Star. And yet I have the exact same problem with Everything, Everything that I have with Scythe, but it's bigger because I'm just bad at buying contemporaries, even if I know I'm going to love them, and they don't carry the hardcover at my store anymore, and the moon isn't in the right phase, and… you get the idea.
The final book I still have to read is Red Rising by Pierce Brown. The series is just getting a follow-up trilogy! (Or something like that.) The point is, I should have read this book ages ago. I have heard nothing but amazing things, the whole idea sounds cool, and yet… ahhh. I'm just not good at reading things.
I hope you enjoyed that post! You can find out more about Top Ten Tuesday here, so be sure to check that out. Have you read any of the books I mentioned? Did you like them? Should I really, really be reading them? (Please scream at me in the comments to read them. 'Tis motivation, my friends.) What are some books you just never manage to read?