Have you ever watched John Oliver? He does this segment called How is this still a thing? where they just lay out the reasons that a really stupid thing that still exists should be long gone. And today I'd like to do one of those about possessive and controlling YA boyfriends.
I really like Buffy. (Bear with me, this is related.) I discovered it on Netflix last year, and it is amazing. If you have not watched it, do it. (If you're Canadian, I know it's still on Netflix. If you're not, I can't help you.) Like all Buffy fans, I have strong feelings about who Buffy should be with. And it really surprised me who I liked.
If you're not versed in Buffy, this is Spike. He's a terrible person. (Ish. It gets complicated. But, for the sake of the introduction to this article, let's just go with he's not a great option.) (Although, for the record, I don't like the other option.) There are many reasons why Spike and Buffy are not good. One, the actor who plays him was born the year before my mum and ICK I'M ATTRACTED TO HIM. Two, he tries to kill Buffy a bunch. (And there's more stuff, but I'm hoping you'll watch and I don't want to spoil you) Three, their relationship is highkey toxic.
"LEO!" I hear you scream. "WHAT THE FRICKITY-FRACK DOES THIS HAVE TO DO WITH BOOKS?" Well, it does, my friends. Because I recently read a book called Roar and the romantic relationships annoyed me. Annoyed maybe isn't the right word. Disgusted me might be better. (You can find the review here.) The love interest was gross and controlling and wouldn't let the protagonist do anything and it was bad, bad, bad. In my reaction to this problematic problemness, I was wringing my hands about the State of the Youths today and why we keep on forcing this stuff onto Them Kids.
And then I remembered that I am a Darn Youth and started thinking about this dumbass.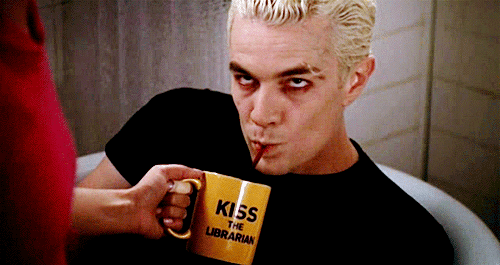 Okay, I'll stop with the Spike gifs!
But here's the thing: I knew that Buffy and Spike's relationship was Not Good Shit. The TV show makes that very clear. Neither of them are good for each other. But I still kept on trying to justify why I was shipping it to myself. (*retroactive face palm*)(*quietly ignores that I still kind of ship it*)
But this is my point! I know that this was Not Good Shit because a) it's right there in the text of the show and b) I was mature/informed enough to realize that it was. But what if those two things hadn't been true? What if the show had portrayed it as the kind of relationship I should want? What if I had believed that?
And that is why I worry so much about books like Roar. Part of the cycle of abuse comes from women not realizing that they are in abusive situations. And, honestly, that shouldn't be surprising. The self-important, controlling, abusive but written to be romantic boyfriend sometimes feels like a trope. And it is icky.
It also begs questions about the writers behind these books. They're usually women. What does that say about the relationships in their lives? What does that say about what they would be willing to put up with? Sure, I love enemies to lovers. But there's a line somewhere between belligerent sexual tension and abuse.
Take it from a teenager: we're dumb. Even if we're smart, we're stupid little dipshits. We are being influenced by the media we consume, whether we realize it or not. I'm not in favour of censoring books because I think they glamorize unhealthy relationships, but I'm kind of worried about how willing the book community seems to be to accept them. (Roar has a 3.98/5 star rating on Goodreads.)
I'll be honest. You can pry Spuffy from my cold, dead hands. I understand why people will ship Rey and Kylo and Alina and the Darkling. There's a dangerous edge to those relationships that make them so intoxicating. But I know they're problematic ships. The same can't be said for other girls who might finish reading a book and think that good boyfriends tell them what they can and can't do. So, in proper John Oliver style… Romanticizing abuse in literature for literal kids: how is this still a thing?
Have you ever found some really terrible book boyfriends? Do you have a problematic ship? Do you have Buffy opinions? (Please have Buffy opinions.) What do you think should be done to combat this is the book community? Or do you think I'm overreacting?