4.5/5 stars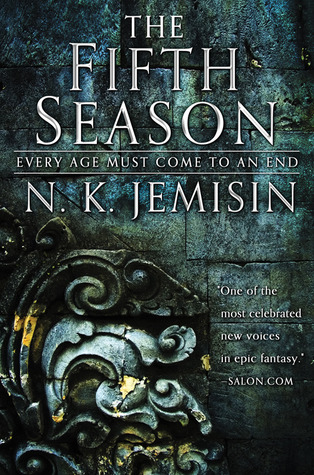 THIS IS THE WAY THE WORLD ENDS. AGAIN.

Three terrible things happen in a single day.

Essun, masquerading as an ordinary schoolteacher in a quiet small town, comes home to find that her husband has brutally murdered their son and kidnapped their daughter. Mighty Sanze, the empire whose innovations have been civilization's bedrock for a thousand years, collapses as its greatest city is destroyed by a madman's vengeance. And worst of all, across the heartland of the world's sole continent, a great red rift has been been torn which spews ash enough to darken the sky for years. Or centuries.

But this is the Stillness, a land long familiar with struggle, and where orogenes — those who wield the power of the earth as a weapon — are feared far more than the long cold night. Essun has remembered herself, and she will have her daughter back.

She does not care if the world falls apart around her. Essun will break it herself, if she must, to save her daughter.
Firstly, I am so proud of myself for reading this book . I realize I mostly say that when it was a book I hated, but I swear that's not the case here. There is just so much hype around this book and, if I'm being honest, I was afraid it wasn't going to live up to it.
Now that I've actually read it, I honestly don't know how to review this book. Or what rating to give it.
Here is what this book is: very, very good. Let's not have any doubts about that.
Here is what this book is not: what I expected.
Do you see the dilemma?
Here is what this book is: intelligent and well-written.
Here is what this book is not: easy to read. This is not a popcorn action movie in book format like some fantasy books. This book doesn't just give you the opportunity to think, it demands that you think to just make your way through it. This is no fun action romp. The world in this books is unjust and unfair in a way that's uncomfortably familiar and sometimes you just want to look away, but it rings to true for you to do that. (Do not read this book to be comfortable.)
Here is what this book is: an exploration of a world and the people in it that challenges your preconceptions of what the book will be and what fantasy can be. Maybe I'm adding to the hype, but this much is true: I have never read a fantasy quite like this one. That's kind of exciting. And that's also important.
I am not yet sure if this is four or five stars, so I'm putting it at four and a half stars for now. (Rounded down to four.) This is not permanent. I feel like I need to sit back and think about this book. It wasn't as heart-pounding and immersive as some fantasy books I've read, but I don't think it's supposed to be heart-pounding and immersive. It's supposed to be intellectual and thought-provoking and still very compelling. Which it is.
(If you can't figure out, I've never quite read anything like this and I'm still not sure what to make of it.)
So.
Here's what I'm going to do: recommend it to a bunch of people. Because this book should be talked about. There's so much here.
And here's what else I'm going to do: read the next book.