Zuri Benitez has pride. Brooklyn pride, family pride, and pride in her Afro-Latino roots. But pride might not be enough to save her rapidly gentrifying neighborhood from becoming unrecognizable.

When the wealthy Darcy family moves in across the street, Zuri wants nothing to do with their two teenage sons, even as her older sister, Janae, starts to fall for the charming Ainsley. She especially can't stand the judgmental and arrogant Darius. Yet as Zuri and Darius are forced to find common ground, their initial dislike shifts into an unexpected understanding.

But with four wild sisters pulling her in different directions, cute boy Warren vying for her attention, and college applications hovering on the horizon, Zuri fights to find her place in Bushwick's changing landscape, or lose it all.
It is a truth universally acknowledged that I will read literally anything that has the slightest to do with Pride and Prejudice.
There are lots of retellings of Pride and Prejudice. This is not the first, nor will it be the last. And it's a worthy continuer. (Is that a word?) It was fast and fun. It weaves commentary about gentrification through the story really well. But… I didn't love it.
AAAAAHHHHH I FEEL SO BAD
I really wanted to love this book because
a) I loved American Street
b) PRIDE AND PREJUDICE PRIDE AND PREJUDICE PRIDE AND PREJUDICE
And I liked a lot of the parts! The interactions between the characters felt very natural, and Zuri is a great main character. Pride is her weakness and pride is her failing. She feels fiercely: loves fiercely and hates fiercely. I think that stubborness and sweetness was really well written. I also loved the allusions to (I think?) vodou.
Another thing I loved was how Ibi Zoboi really captured the sort of love people can have for their neighbourhoods. I grew up in a neighbourhood where people sat out in the summer in front of their houses drinking together and brought over food when people were sick and knew each other's names in the store and she just nails it. The sense of community, the familiarity, everything.
But. Here's the thing.
This book is too short.
Yes! It's too short. Everything happens so fast that I swear I got whiplash from reading it. We barely get time to marinate in the wonderful sexual tension of Lizzie/Zuri and Darcy/Darius hating each other. And we didn't get the Awkward Dance of Repressed Lust! I need that!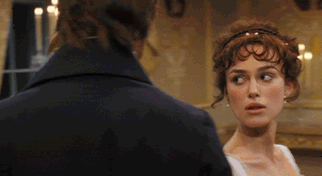 There was also a lot of other stuff I felt was lost because of the compressed story. I wanted more from everything, especially the relationship between the sisters. I just didn't get enough of that, and spending more time with Zuri's sisters and focusing on her family would have been really nice. The best P&P adaptations nail that sisterly love. Case in point:
That being said, I would 100% watch the hell out of a movie based on this. (Especially if they found someone who looked like the drawing of Darius on the end papers. Ohmygod I need him) And if you're a diehard Pride and Prejudice fan, like me, there's definitely a lot to enjoy. But there might not be enough to elevate it beyond that.
Still want that movie, though.
And here are some gifs for your enjoyment. I couldn't resist.
Verdict: up to you
Have you read Pride? Or Pride and Prejudice? Which adaptation is your favourite? What books do you want to see Netflix make into movies, à la To All the Boys I've Loved Before?