We've come to the end of Pilot Season, the part of the year where TV pilots are shop and networks decide which ones to pick up and which ones to pass on. That plus the fact that I've read a handful of books recently that have me wanting to go pitch some executives had me thinking about which books and book series would make good TV shows. So I decided to make a list.
To make this list, a book needs to meet two criteria. First, it needs to be a good book. (Duh. I'm not going to be telling you a book I hated should be a TV show.) Second, something about its premise, characters, or something should be uniquely suited to TV. There are lots of books I'd love to see adapted in general, but these are the books where I read them and immediately (okay, maybe not immediately) went TV SHOW IDEA! I'm also not listing books that are already/have already been turned into TV shows, otherwise this entire article would be about Six of Crows and Crooked Kingdom.
Kerri Maniscalco's Stalking Jack the Ripper series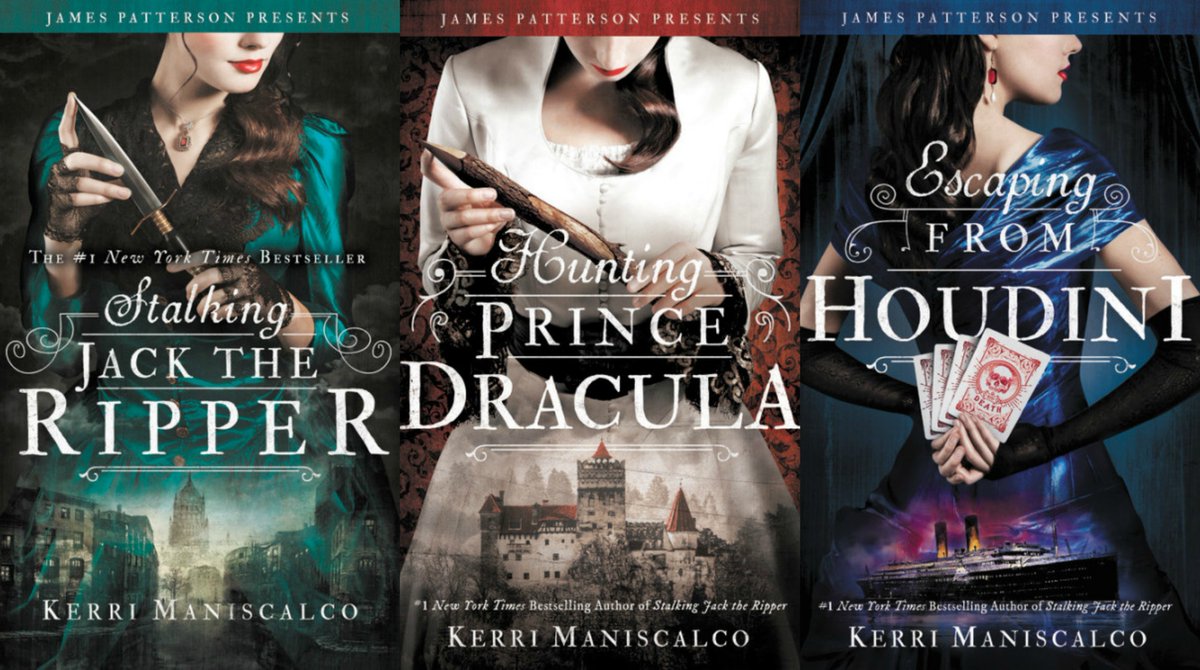 This series follows Audrey Rose Wadsworth, a young woman in Victorian London who also happens to be an aspiring forensic scientist under the tutelage of her uncle. With the help of Thomas Cresswell, her uncle's dashing student, she solves mysteries and looks great while doing it.
Can't you just see how this TV show would work? It would be like a Victorian Bones! They could solve a new mystery ever week! Imagine what the costumes would be like! There's so much potential here! There's so much flexibility here and the show could expand so much beyond the books. Also, I just want to see on-screen Cressworth and I'm sure plenty of other people do as well. (You can find my review for the third book in the series here.)
Kiersten White's The Conquerer's Saga
The Conquerer's Saga is the story of Lada Dragwlya, the female Prince of Wallachia in an alternate history where Vlad the Impaler was born a woman. The books explore so many interesting themes, including religion, politics, and what makes one side of war the "right" side of war. There's so much intricacy and thought put into these books, and the characters are amazing, even if none of them really are good. So many things are touted as being like Game of Thrones, but this series is one of the few that actually lives up to that. Except the main characters are a woman and a gay Muslim man and the Sultan of the Ottoman Empire, so there's way more diversity and exploration of how clashes of culture, religion and race affect politics. (You can find my review for the third book in the series here.)
Michael Grant's Front Lines series
Another alternate history, this time set in an alternate World War Two where women fought in the US Army. There's so much potential here for a great ensemble show à la Band of Brothers. While there are just three books in the series, there's potential for way more than three seasons as the book tends to skip from major battle to major battle and leaves a lot of events out for the sake of time. A TV show could highlight parts of the war that aren't as famous and go deeper into the toll that war takes on everyone which the book couldn't keep in for the sake of time. (You can find my review for the third book of the series here.)
Ellie Marney's Every series
Ignore the terrible covers. These books are amazing. They're a reimagining of the Sherlock Holmes story (ish) about Rachel Watts, a country girl who moves to Melbourne and meets James Mycroft, her strange neighbour with a fascination for crime. I am of the opinion that there can never be enough TV shows based off the Sherlock Holmes story and the Every series could be a great spin on them. Think Sherlock or Elementary by way of Veronica Mars. (You can find my review of the third book here.) (I swear I'm not just only putting links to the third book to be weird. I just only have reviews for the third book in a lot of these series for whatever reasons.)
Rebecca Roanhorse's The Sixth World series
I will die for Maggie Hoskie. She's the main character of this post-apocalyptic series about a Navajo monster hunter and she's the sort of female character I need more of. Like Jessica Jones, but better. I just want a TV show where she drives around killing monsters, saving people and being a prickly, awesome bitch. Like Supernatural, if Dean and Sam were replaced with a 1000000 times more interesting woman and a ton of awesome girls who don't die to forward the plot. CW, feel free to call me.
Scott Lynch's Gentleman Bastard Sequence
Do you like TV shows about criminals? Do you like TV shows set in fantasy worlds? Can't decide which TV show to make? BOOM! Adapt the Gentleman Bastard sequence and you'll make both! This series follows Locke Lamora, a genius criminal who steals because it's, and I quote, because it's heaps of fucking fun. It's full of quippy characters, quotable lines, plot twists, action, adventure, and lots of pain. Camorr is also such a vibrant setting and I neeeeeeeed to see it brought to life. Yes, it suffers from the same problem that Game of Thrones did (Scott Lynch was supposed to publish book four yeeeeeaaaaars ago) but each book (so far) is basically its own separate heist or criminal challenge, so you could easily enjoy the good seasons independent of the later series when the TV writers start screwing up all the characters you love. (I'm not still bitter about Game of Thrones.)
Riordanverse: the TV Show
THERE IS SO MUCH POTENTIAL HERE! Imagine the Arrowverse. But it's all Rick Riordan stories! Rick Riordan books are modern classics for a reason and you'd never have to worry about running out of content. You could even integrate some of the Rick Riordan Presents books! Hell, forget a Riordanverse TV show. You could have a Riordanverse TV channel and finally cure the scars on my heart left by how the Percy Jackson movies did the story so dirty.
Are there any books you think would make really great TV shows? What do you think about my picks? Would you prefer Riordanverse: the Show or Riordanverse: the Network?